To commemorate Malaysia's Independence Day, Ixora Hotel Penang would be churning out delicious dishes to celebrate our 62nd Merdeka Day 2019 (31 August 2019) and Malaysia Day 2019 (16 September 2019). Ixora Hotel Penang's Executive Chef, Chef Ong, together with his team, would put together great Malaysia cuisine, as many as 50 dishes, from starters, salads, soups, rice & noodle dishes, main courses and action stalls, to reminisce the flavors of what Malaysia is about the Straits Café & Lounge. Do call in +604-382 8888 to make your reservation today.
The buffet's selection for Merdeka Day 2019 Buffet Dinner would boast unlimited servings of grilled items including BBQ Whole Australian Baby Lamb, Lamb & Beef Skewers, Garlic BBQ Oyster, Vermicelli Scallops, Ikan Pari & Ikan Nyok Nyok, Prawn Skewers, Cheese Sausage, Assorted Grilled Vegetables and more.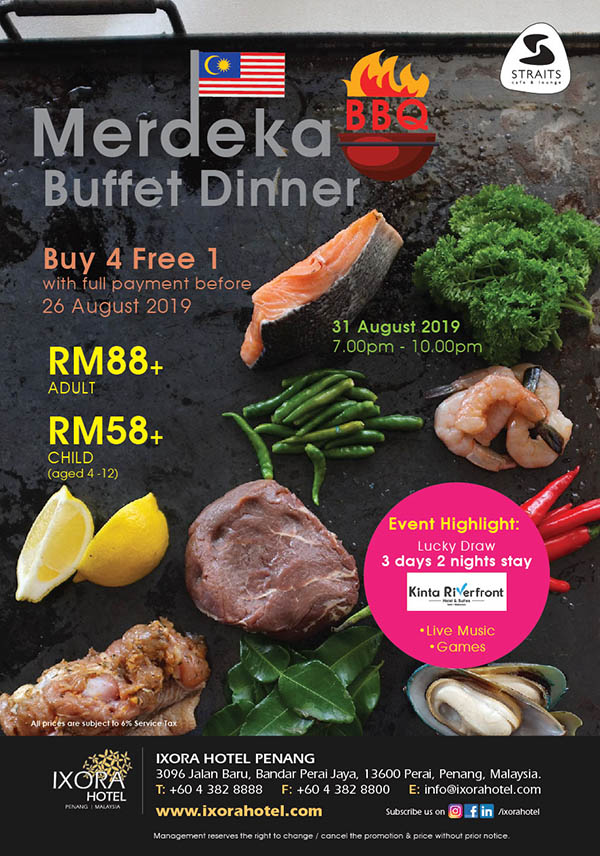 As for Malaysia Day 2019 Buffet Lunch, some of the delicacies would include Traditional Lemang with Chicken Rendang, Penang Char Kuey Teow, Yong Tau Foo, Otak-Otak, Roti John and Satay Celup and more.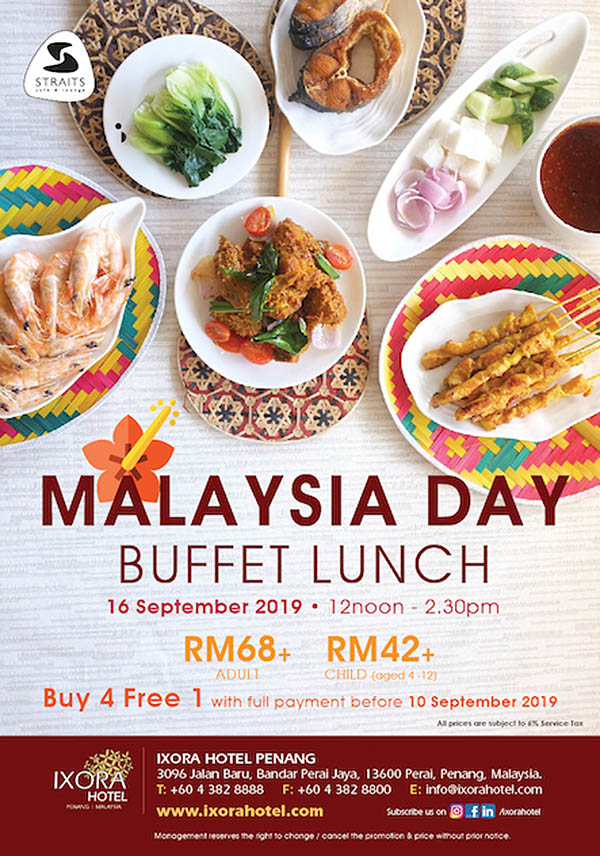 Here are some glimpses of the dishes available for both promotions.
Do also check out Ixora Hotel Penang's exclusive cake collections for purchases or orders for special occasions. Currently, there are 8 options, namely Rose Truffle, Gorgeous Lavender, Carrot & Walnut Torte, Pick Me Up Tiramisu, Miracle Berries Chilled Cheese, Mangolicious Cheese Cake, Lecious Banana and Cioccolato.
Getting to the Straits Café & Lounge @ Ixora Hotel won't be hard as it's just located next to the Megamall Shopping Complex at Bandar Perai Jaya. If you are coming from the island via the 1st Penang Bridge, just look out for the second exit on your left upon reaching the mainland. Drive all the way via Jalan Baru until you reach the 1st traffic lights. Turn left into Jalan Perai Jaya 1 and you can see Ixora Hotel at the junction of Jalan Baru/Jalan Perai Jaya 1. Drive straight for about 10m and you can see the basement car park on your left. Park your car and go up Level 1 and you can see the café & lounge there.
Name: STRAITS CAFÉ & LOUNGE @ IXORA HOTEL PENANG
Address: Jalan Baru, Bandar Perai Jaya, 13600 Perai, Penang, Malaysia.
Contact: 604-382 8888
Business Hours: 6.00am-10.00am (breakfast), 12.00pm-2.30pm (Lunch), 6.00pm-10.00pm (Dinner)
GPS: 5.378357, 100.398322
RATING:
Ambience: 8/10 (1-4 cheap, 5-7 average, 8-10 classy)
Food Choices: 8/10 (1-4 limited, 5-7 average, 8-10 many choices)
Taste: 8.5/10 (1-4 tasteless, 5-7 average, 8-10 excellent)
Pricing: 8/10 (1-4 cheap, 5-7 average, 8-10 expensive)
Service: 8/10 (1-4 bad, 5-7 average, 8-10 excellent)