If you feel like having some BBQ and steamboat at an open area while enjoying the cool and soft breeze from the Andaman Sea, you should check out Asian Heritage Restaurant within the premises of Paradise Sandy Beach Resort Penang. The "Eat All You Can" BBQ and Steamboat would only cost you RM28+ (adult) / RM14+ (child) with lot of spreads to choose from, starting from appetizer, fresh seafood and vegetables to local and Western desserts.
To start off while waiting for your pot of soup to be boiled (option of clear chicken soup and tom yam soup), do check out the appetizer section for a light bite. There would be some salads and snacks of different dressings to get your appetite started.
At the steamboat section, there would be at least 8 types of fresh seafood and shellfish available daily. You would also get different shape and sizes of meat balls and fish balls, noodles and fresh vegetables abundantly displayed here.
To maintain the freshness of the BBQ items, they have a menu for you to choose from, ranging from marinated chicken, lamb, beef and fish. Don't miss out the Char Siew Chicken, Barbeque Beef, Black Pepper Lamb and Curry Dory Fish. These few selections are simply irresistible!
There are a few desserts too for the package and that would include some local Nyonya delicacies, cakes, mousse and jellies.
Do keep a watch out for their coming promotion (most probably in June 2011) as they would be having a twist in their regular BBQ and Steamboat serving style. Don't you love to have all your food on a bamboo skewer? Of course, you would be having Satay and Skewer Lok-Lok Celup Buffet – RM29.90+ (adult) / RM15.90+ (child & senior citizen). Your chosen skewers would be barbequed and delivered right to your table, with some spicy crushed peanuts dipping sauce (satay sauce). At the same time, you get to experience the Malacca Satay Celup, where you get to cook your skewers in a pot of boiling peanut sauce.
Well, some may think that having a buffet for dinner might be a little too heavy prior to going to bed. Don't worry as they do have a wide range of dishes available in their ala carte menu. I did try out their Mushroom Bruschetta (RM13.50+) and Beef Lasagna (RM19.90+). Both the items were amazingly delicious. The bruschetta had sautéed mushrooms, mixed in creamy white sauce and served on toasted French loaf slices. The lasagna had layers of generously spread minced beef in tomato puree and topped with mixed cheese. I would think Garfield will frequent here more now. LOL!
Other than the above promotion, they also have Beer Festival all day long with a bucket of 5 bottles of Tiger Beer at only RM35+ or a choice of over 30 types of imported beers at normal price. If you feel bored during the weekend and felt like having a day off at the beach, do check out their Hi-Tea Buffet at RM8.90+ only. Don't feel like drenching yourself in sweat during lunch hours under the humid weather? You can try out their Lunch Special Promotion (RM5+ per dish for the first 99 orders from Monday to Friday). Items available daily are as shown below: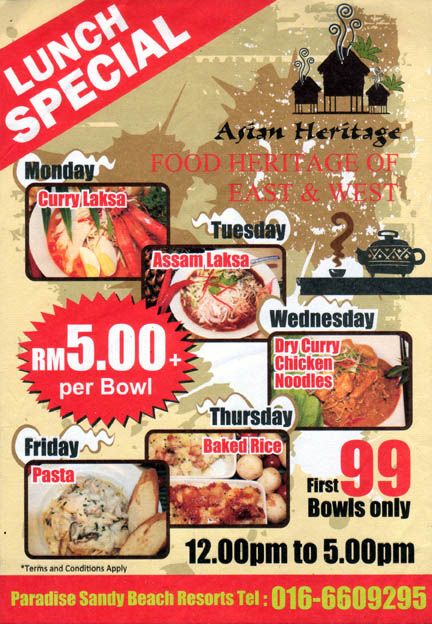 Overall, Asian Heritage Restaurant is a great place to hang out, whether for a short meeting, family gathering, having some light snacks or even chilling out with friends. The only thing I feel the management should revise is the exclusion of beverages in their buffet promotions. All beverages ordered are additionally charged based on the price stated in their beverage menu.
It's not hard to locate the restaurant as it's within the premises of Paradise Sandy Beach Resort Penang. Drive all the way up towards Tanjung Bungah. As you see the Toy Museum (in front of Copthorne Hotel) on your right, keep to your right and make a U-turn at a junction further up before the traffic lights. The restaurant is just right inside the shoplots area of the Paradise Sandy Beach Resort's car park. There will be a security guard house there. Don't hesitate to ask for direction from the guard if you are not sure of the location.
Name: ASIAN HERITAGE RESTAURANT @ PARADISE SANDY BEACH RESORT PENANG.
Address: Jalan Tanjung Bungah, 11200 Penang, Malaysia.
Contact: 604-890 3076, 016-660 9295
Opening Hours:
BBQ & Steamboat Buffet Dinner: 6.00pm – 9.30pm (Daily)
Daily Lunch Special: 12.00 noon – 5.00pm (Monday – Friday)
Hi-Tea Buffet: 3.00pm – 5.30pm (Saturday & Sunday)
GPS: 5.467431, 100.289339
RATING:
Ambience: 8.5/10 (1-4 cheap, 5-7 average, 8-10 classy)
Food Choices: 9/10 (1-4 limited, 5-7 average, 8-10 many choices)
Taste: 7.5/10 (1-4 tasteless, 5-7 average, 8-10 excellent)
Pricing: 7.5/10 (1-4 cheap, 5-7 average, 8-10 expensive)
Service: 9/10 (1-4 bad, 5-7 average, 8-10 excellent)