As the
Nine Emperor Gods'
Birthday is nearing this coming Monday, 15 October 2012 (first day of the ninth month of the Chinese lunar calendar), most of the Chinese Buddhist would undergo a 9-10 days of meatless diets. There will be many vegetarian food stalls set up all over town, especially in Penang, where the devotees would flock around the temples to welcome the return of the gods from heaven to earth. Although the buying of the food would be easy, I still prefer to cook up something on my own. One of the dishes which I love to make would be the
CRISPY VEGETARIAN DUCK
. It's easy to make and yet delicious enough to be shared on the dining table. Let me share with you the traditional recipe that has been in my family for generations.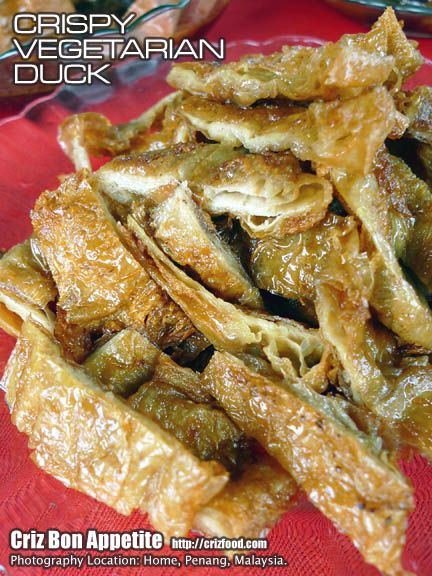 INGREDIENTS (Make 6 pieces)
6 sheets of dried tofu skin (31" x 23")
3 pieces of red fermented beancurd (ang tao joo)
1½ glass water (450ml)
1½ Porcelain spoon fine sugar
1½ Porcelain spoon corn flour
1½ teaspoon sesame oil
¾ teaspoon Five Spice Powder
2 teaspoon pepper
3 Porcelain spoon soy sauce
100gms sesame seed (slightly fry roast to golden brown in wok without oil)
OPTIONAL
6 medium Chinese Mushrooms (Soak, sliced and marinate with some ginger juice, soy sauce, sesame oil and pinch of sugar)
PREPARATION
1. Take a large bowl, mix all the ingredients thoroughly. Add in the roasted sesame seed last.
2. Place the tofu skin on a large tray or a clean table top length wise.
3. Dampen the right half of the skin (approximately a small ladle full or less depending on your ladle size) and fold into two fron left to right (as per diagram below – click on it to enlarge further).
4. Dampen slightly the folded skin. Fold 1/3 downwards and 1/3 upwards (as per diagram).
5. Dampen slightly again and fold 1/4 inwards on both sides (as per diagram).
6. Fold into half and secure with two long bamboo sticks upwards (as per diagram).
7. Heat up a wok with water. When boil, lower fire and place the ready vegetarian duck on a plate and for 10 minutes until bloated up. DO NOT over steam. You might have to steam many times as the "duck" has to be separated apart when steaming and your wok might not be big enough to fit all.
8. Leave aside to cool down. Make sure they are TOTALLY cool down before frying to ensure the fluffiness.
9. Fry in a wok of hot oil and cut according to your preference.(Serves: 5-6)
FOLDING DIAGRAM
Most people would just serve this with chili sauce but I prefer the traditional way of eating the vegetarian duck with homemade pickle. Just place the pickle in an air tight jar and keep it refrigerated. It would last you more than a week if you are careful enough to use an extremely dry chopsticks to take them out when serving. You can even take them with Pork Roll (Lor Bak) or Liver Roll (Too Kua Kean). Here's the recipe for the pickle. Marinate it for half a day would be good enough before serving with your dishes.
PICKLE RECIPE
500gms radish
100gms carrot
1 thumb size young ginger
4 Porcelain spoon fine sugar
3 Porcelain spoon lime juice (about 4-5 lime)
1 teaspoon salt
PREPARATION
1. Remove the skin of the carrot and radish. Cut half the carrot and a quarter the radish. Use a kitchen helper to slice them thinly. You can cut some decorations on the vegetables if you want to.
2. Scrape off the skin of the young ginger. Slice thinly and cut into strips.
3. Mixed the vegetables with the rest of the ingredients. Bottle it up.
4. Best served with your dishes when chilled.If you feel that there is too much work involved in coming up with the pickle, here is another sauce recipe. I called it The Lazy Man's Sauce… LOL!
LAZY MAN SAUCE
Some tomato ketchup
Some pounded peanut candy (khong th'ng / kacang tumbuk)
Some roasted sesame seed
PREPARATION
Mix all in a bowl. Best served with any fried meat or fried tofu end products.
YOU CAN CHECK HERE FOR MORE RECIPES.