With the planned USD35 million upgrading project for the Swettenham Pier Cruise Terminal (SPCT) in Georgetown, Penang, to accommodate berthing of larger cruise ships, you would be expecting more international cruises to berth within the next few years. With such a competitive cruise market in the future, travel agencies have to evolve to be more innovative in their travel packages. One such agency would be the Hwajing Travel & Tours Sdn. Bhd., an established travel and tour company with almost 3 decades of handling cruise packages. Not only did the company offer a niche for luxurious modern cruises at affordable prices, it also caters perfectly to the needs of its customers in terms of various vacationing styles and experiences – the latest being their first ever "Royal High Tea" experience onboard Star Cruises – SuperStar Libra. Each of their registered passenger would have the privilege to indulge in their 2-hours refillable Royal Hi Tea package for FREE.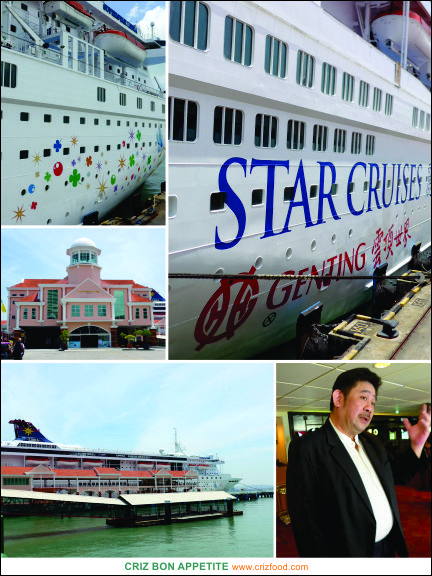 Of course, they would be pampered with the services of some highly trained "royal" waiters and waitresses to assist you in your every tea-time needs.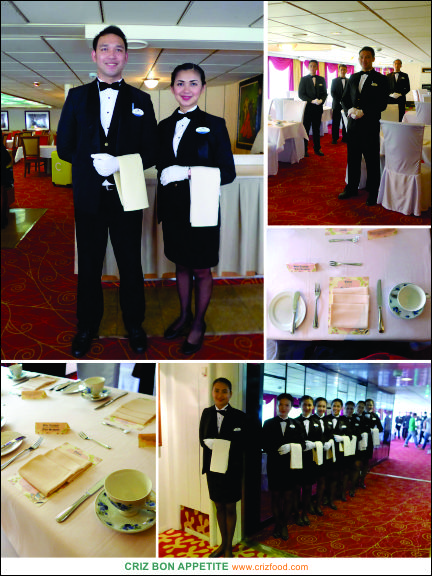 Do check out their latest promotion where you would get to purchase the BUY ONE FREE ONE offer where everyone would still get to enjoy the luxurious tea-time pampering.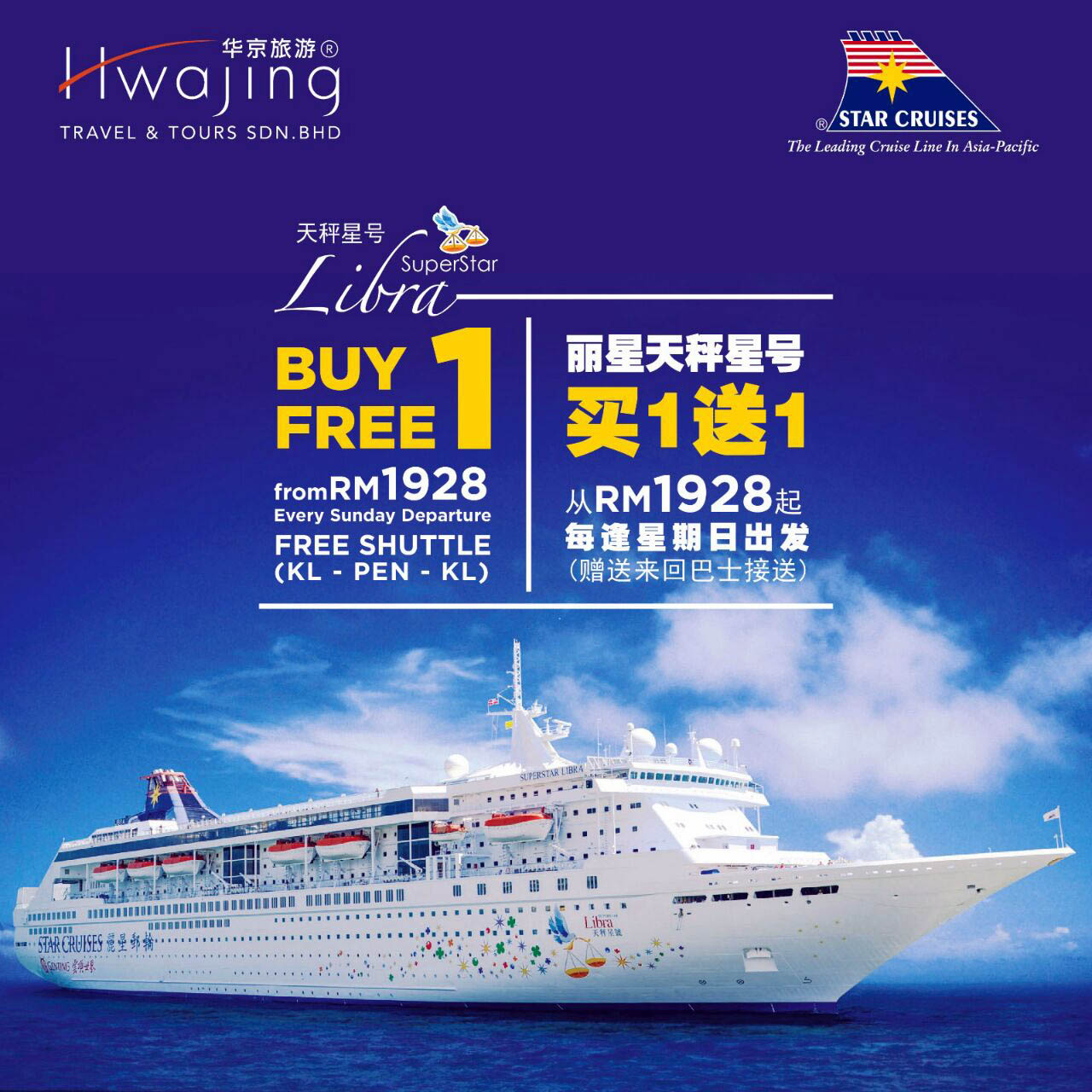 Hwajing SuperStar Libra Travel Package Promotion (4D3N: Penang-Krabi-Phuket-Penang)
– Matta Fair (March) Promotion – RM1928 (BUY 1 FREE 1) **RM1928 for 2 pax
– FREE Royal High Tea
– FREE Shuttle: KL-Penang & Penang-KL
– Departure period: 16 April 2017- 30 July 2017 (Depart on every Sunday)
– The above fare not included all taxes and charges
Let's have a look at the spreads that would be available during each "Royal High Tea" experience.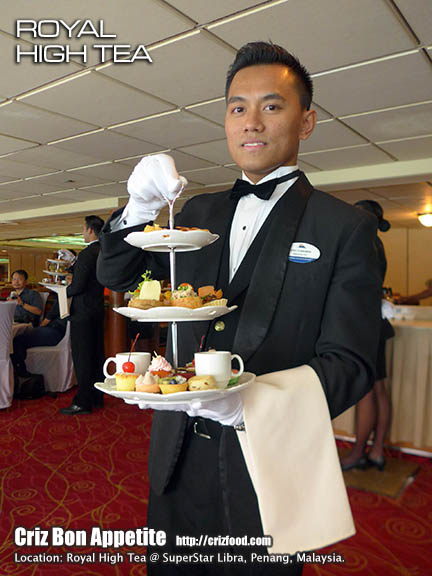 There are 4 types of teas: English Breakfast, Earl Grey, Pure Peppermint and Pure Green Tea.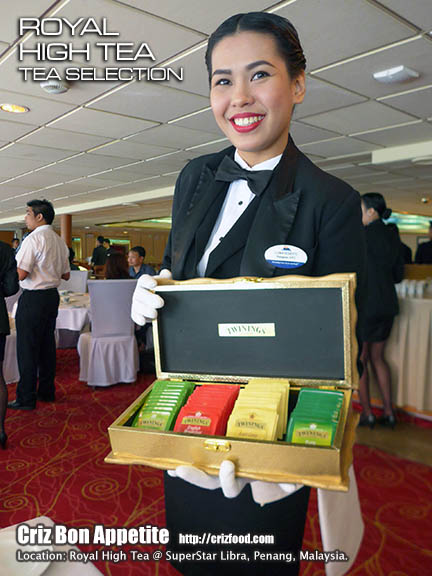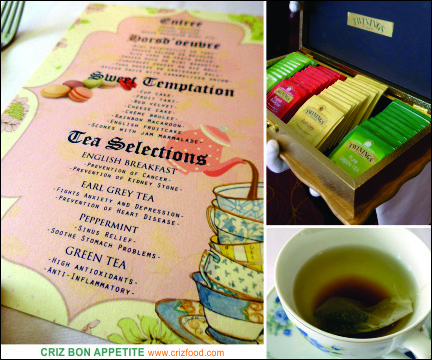 There are the 3-tiered serving tray, first and second layer are mainly savory items while the last tier would be filled with sweetness.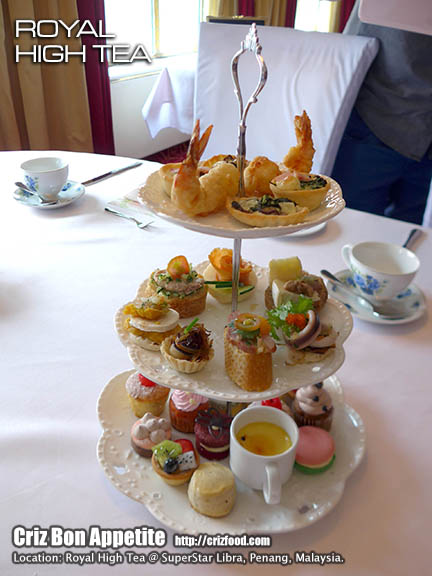 First Tier (Entree): Prawn Fritter, Savory Quiche and Baked Mushroom Mini Pie.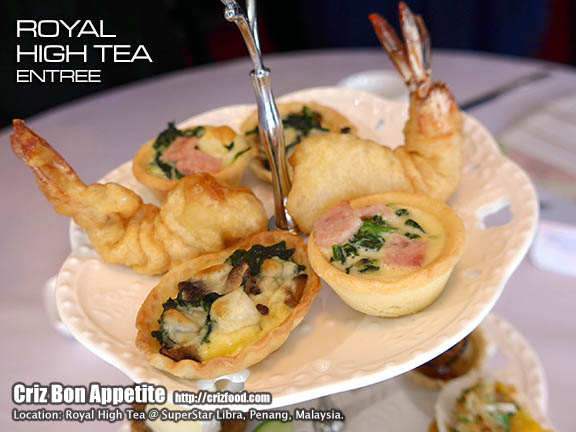 Second Tier (Hors d'oeuvre): Mini Ratatouille on Tart, Smoked Salmon on Brioche, Aloo Vada on Prata Bread, Smoked Duck on Mini Baguette, Camenbert Cheese on Rye Roll, Tuna Mousse on Croissant Roll and Spiced Squid with Caramelized Onion.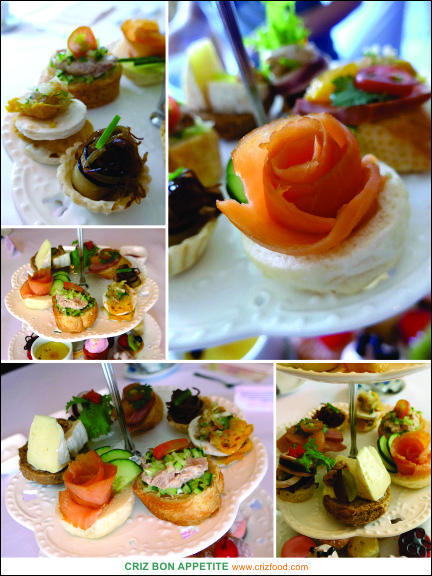 Third Tier (Sweet Temptation): Cupcake, Fruit Tart, Red Velvet, Cheese Cake, Creme Brulee, Rainbow Macaron, English Fruitcake and Scones with Jam Marmalade.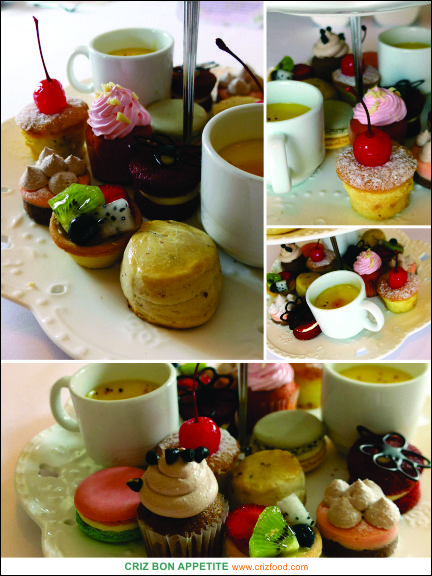 "The main objective of introducing the 'Royal High Tea' onboard SuperStar Libra, is for cruise travelers to get away from hectic lifestyle, thus get pampered and discover the greatest and 'quality' moment in the world. We wish to inspire and educate our passengers on how to celebrate and enjoy good times by rewarding themselves with a majestic and distinctive of afternoon tea, a taste for life pursuing unique experience in our lifetime," said Mr. Kenny Cheong, Managing Director of Hwajing Travel & Tours Sdn. Bhd. He also added, "We are aware that price is a key decision making factor for our Malaysian travelers especially during the period of country's economic recession. Therefore, we have been working towards the price and innovative content in our travel itinerary that we believe is fair to our travelers. Hoping that the first ever "Royal High Tea" concept is just appropriated to the market as it is exceptional, great value added and provided as FREE Surprise to our passengers."
For more information, please contact below:
KL (HQ):
Address: Block N-26, 2nd Floor, Warisan Cityview, Jalan 3/93 A, Batu 21/2 off Jalan Cheras, 56100 Kuala Lumpur.
Contact Number: +603-9200 2929 (Phone), +603-9283 6566 (Fax)
Business Hours: 9.00am to 6.00pm, 9.00am to 1.00pm (Saturdays) – (Closed on Sundays)
Email: info@hwajing.com.my
Penang (Branch):
Address: 15A, Jalan Rangoon, 10400 Penang.
Contact Number: +604-229 3566 (Phone), +604-229 0566 (Fax)
Business Hours: 9.00am to 6.00pm, 9.00am to 1.00pm (Saturdays) – (Closed on Sundays)
Email: infopen@hwajing.com.my
Website: www.hwajing.com.my
Facebook: http://www.facebook.com/hwajingtravel/
RATING:
Ambience: 9/10 (1-4 cheap, 5-7 average, 8-10 classy)
Food Choices: 8/10 (1-4 limited, 5-7 average, 8-10 many choices)
Taste: 8/10 (1-4 tasteless, 5-7 average, 8-10 excellent)
Pricing: N/A
Service: 9/10 (1-4 bad, 5-7 average, 8-10 excellent)
A big thank you to Hwajing Travel and Tours Sdn. Bhd. and Star Cruises – SuperStar Libra for having us onboard to experience the royal treatment.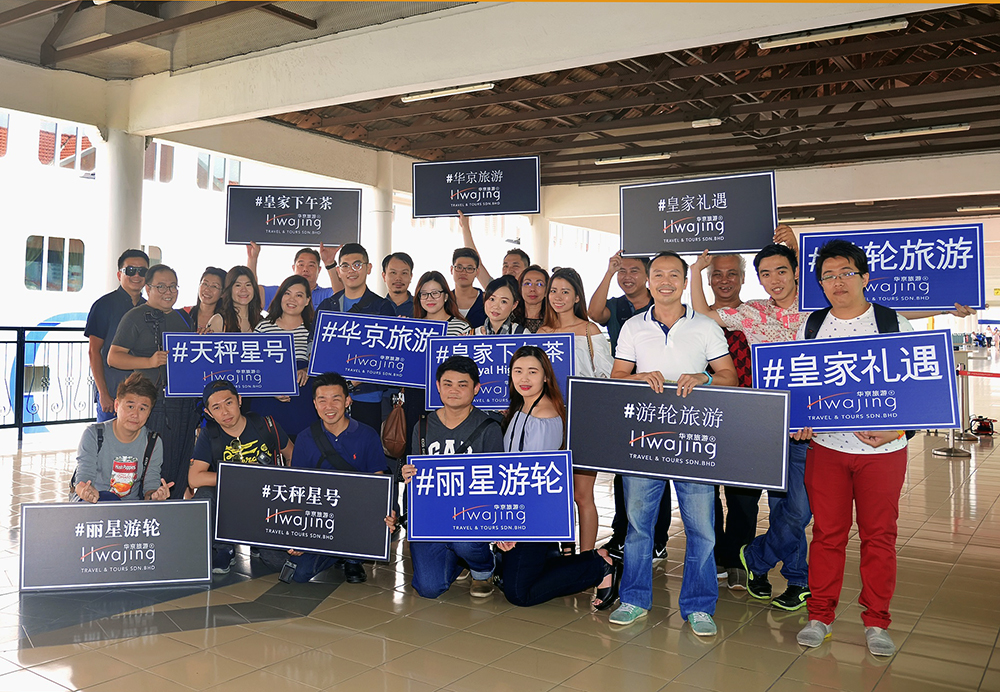 About Hwajing Travel and Tours Sdn. Bhd.

: Hwajing Travel and Tours was established in 1989. The company increased its' market position in 2001 and 2008 with the introduction of affordable travel plans coupled with operating excellence. Hwajing Travel and Tours Sdn. Bhd. is committed to provide high quality yet affordable travel packages and experience for the travelers. Hwajing is also one of the main travel cruises for Asia Pacific. In the past 30 years, Hwajing Travel and Tours Sdn. Bhd. has gathered a series of high quality resources, through an elite team to provide the best service to the travelers. It currently has a branch in Penang.
About Star Cruises SuperStar Libra

: SuperStar Libra packs a punch with 6 restaurants (Blue Lagoon – 24-hour Dining Outlets with Asian Specialties, Four Seasons Restaurant, Spices, Taipan, Mariners Buffet & Ocean Palace) and 2 bars (Pool Bar & Coconut Willy's), karaoke club, two pools, recreation & wellness activities, designer shops and more. Now homeported in historic Penang, the ship visits the picturesque destinations of Krabi and Phuket, offering a range of great tours and excursions. Leave the cares of the world behind when you step onto this floating holiday resort. SuperStar Libra offers award-winning restaurants, immaculate suites and cabins, duty free shopping, excellent wellness, pampering and sporting facilities, pulsating night spots and traditional Asian hospitality.