The Sigi's Bar & Grill on the Beach @ Golden Sands Resort, Penang, has started a new menu to tickle the taste buds of diners. Beginning April 2019, the restaurant will launch its new a la carte menu, featuring its own style of casual Italian dining experience by the beach. Diners will get to enjoy an Italian gastronomic tour while taking in the sea breeze on this popular stretch of the Batu Feringgi. The concept behind the new menu showcases traditional farm-to-table Italian dishes, which recreates the fresh-source-to-dining-table approach to cuisine, and it's a great way to create great dining experiences that embraces family gatherings and encourages the act of sharing dishes around the table with friends and family. For reservations, please call +604-886 1852 or +604-8811 911.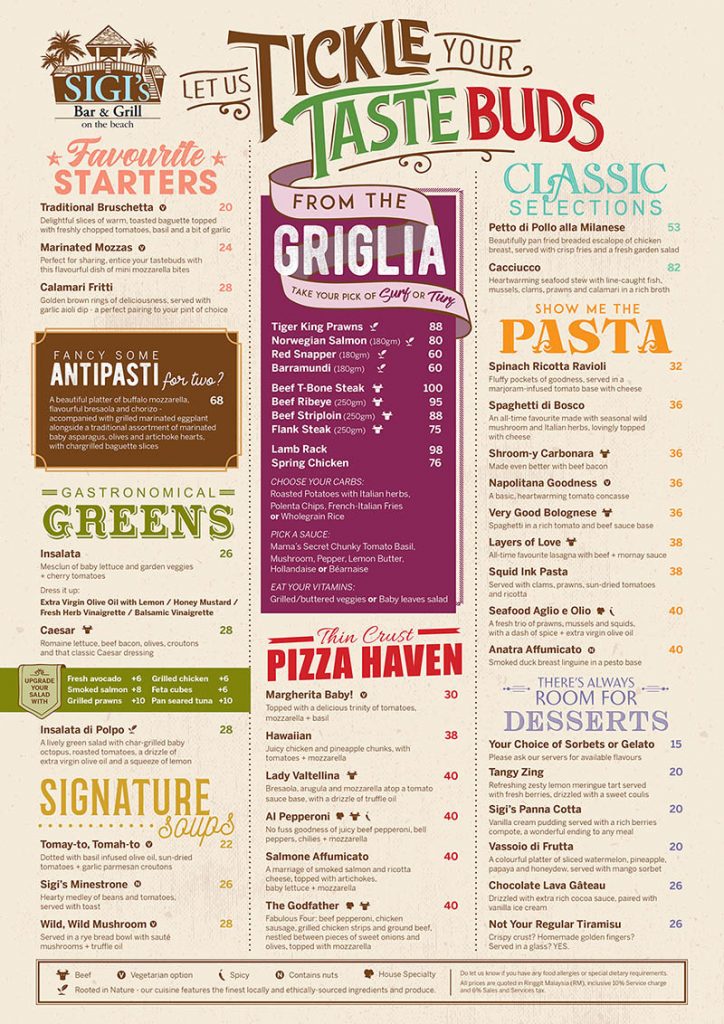 From classic to contemporary dishes, guests can take a bite of Italy how they want it. Starters feature a Traditional Bruschetta, Marinated Mozzas, Calamari Fritti and Antipasti for two. Health-conscious diners can go for the fresh greens. For flexibility, guests may choose to customize their Insalata or Caesar Salad with delectable choices, such as grilled prawns and smoked salmon. Signature soups include Sigi's Minestrone, Wild, Wild Mushroom and Tomay-to, Tomah-to.
The highlight of the new menu is the Griglia (grill). Diners are given a multitude of scrumptious options for grilled Surf and Turf, such as king tiger prawns, salmon, beef ribeye and lamb rack, to be paired with their choice of homemade sauces, such as Mama's Secret Chunky Tomato Basil, greens and sides like Polenta Chips and Roasted Potatoes with Italian Herbs.
Casual Italian cuisine would not be complete without pizza and pasta on the menu. Thin-crust Pizza Haven offers crispy crusts with hearty toppings, such as Lady Valtellina, The Godfather, Margherita Baby, and more. Pasta flavors range from Squid Ink Pasta and Spinach Ricotta Ravioli to meat-based options. Classic selections of the mains include Petto di Polio ala Milanese, a beautifully pan-fried chicken breast with crisp fries, fresh garden salad and Cacciucco, a heart-warming seafood stew.
Those seeking sweet endings can look no further than the 'There is always room for dessert' selections. An assortment of desserts ranging from sorbets to gelatos, Sigi's Panna Cotta and the new Not Your Regular Tiramisu featuring a flaky crust and homemade golden fingers is available.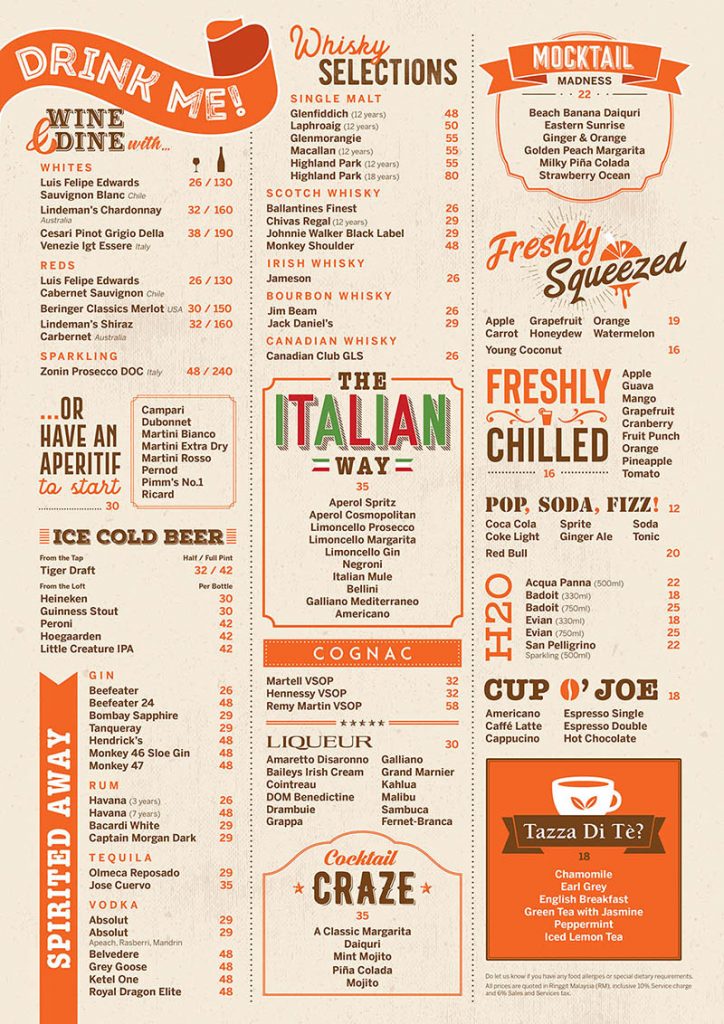 For drinks, guests can select from alcoholic and non-alcoholic quenchers. Italian beverages available include Aperol Spritz, Limoncello Margarita and Bellini. The beverage selection includes Zonin Prosecco DOC, an Italian sparkling wine perfectly paired with Grilled Salmon from the Griglia and an Americano to match a Chocolate Lava Gateau to end the meal on a sweet note. Non-alcoholic options include freshly squeezed juices, tea and coffee.
Sigi's Bar & Grill is located on the beachfront of Batu Feringgi, facing the Straits of Malacca. It has four dining sections with an ambience for casual dining: an air-conditioned section, a private dining room, a patio section with a view of the garden and the beach, and a semi-open upper deck that can seat 20 persons. The restaurant is open daily from 11.00am to 10.00pm daily. Every Sunday, Sigi's will feature its popular barbecue complete with grilled cuts, seafood and a whole lamb in the open fire pit by the beach.
The restaurant is just located within the premises of Golden Sands Resort. Drive all the way up towards Batu Ferringhi. When you see the Rasa Sayang Resort & Spa on your right, slow down and watch out for the Golden Sands Resort entrance which is right after the Rasa Sayang Resort & Spa. Park your car at the ample car park there and walk into the main lobby of the resort. Head towards the beach area and you would see Sigi's Bar & Grill on your right.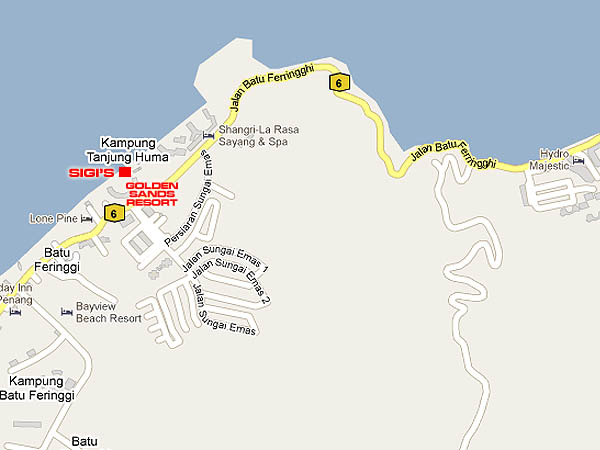 Name: SIGI'S BAR & GRILL ON THE BEACH @ GOLDEN SANDS RESORT
Address: Batu Ferringhi Beach, 11100 Penang, Malaysia.
Contact: 604-886 1852 (Direct Restaurant Line)
Business Hours:
11.00am-6.00pm, 6.30pm-10.00pm (Bar: 11.00am-11.45pm)
GPS: 5.477405, 100.251657
RATING:
Ambience: 9/10 (1-4 cheap, 5-7 average, 8-10 classy)
Food Choices: 7/10 (1-4 limited, 5-7 average, 8-10 many choices)
Taste: 8/10 (1-4 tasteless, 5-7 average, 8-10 excellent)
Pricing: 8/10 (1-4 cheap, 5-7 average, 8-10 expensive)
Service: 8/10 (1-4 bad, 5-7 average, 8-10 excellent)
About Shangri-La Hotels and Resorts Group

: Hong Kong-based Shangri-La Hotels and Resorts currently owns and/or manages 90 hotels under the Shangri-La brand with a room inventory of over 37,000. Shangri-La hotels are five-star deluxe properties featuring extensive luxury facilities and services. Shangri-La hotels are located in Australia, Canada, mainland China, Fiji, France, Hong Kong, India, Indonesia, Japan, Malaysia, Maldives, Mauritius, Mongolia, Myanmar, Philippines, Singapore, Sultanate of Oman, Taiwan, Thailand, Turkey, the United Arab Emirates and
the United Kingdom. The group has a substantial development pipeline with upcoming projects in mainland China, Cambodia, India, Myanmar, Philippines, Qatar, Saudi Arabia

and

Sri Lanka. For more information and reservations, please contact a travel professional or access the website at www.shangri-la.com.